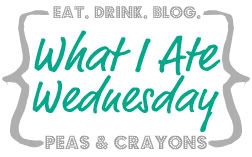 One perk of having a good friend as a neighbor is you get to eat each others food. She made a chicken spinach pasta bake dish and had lots left so she fixed me a plate to take to work for lunch! Such a sweet friend.
Trey makes a mean Bloody Mary!
For date night we steamed Snow Crab legs with salads and baked potatoes.
Grilled cheese, chicken, lettuce and honey mustard sandwich. I love hot cheesy sandwiches.
Sushi from Ichiban. I could eat sushi everyday.
Mrs. Paul's Parchment Bake Garlic Butter Tilapia, garlic and butter noodles, salad and a sweet cheese biscuit
Happy Wednesday! Two more days until the weekend!