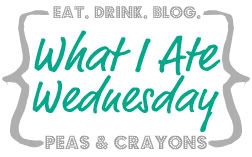 Since my last WIAW post I have eaten some pretty darn delicious foods!
One of my favorite candy. I finished the bag and have not bought anymore.
I am still snacking on my
Foodzie box
.
This salad bowl was amazing! Lettuce, cowboy caviar, baked tortilla chips, salsa, fat free sour cream, green onions, possibly other stuff I can't remember.
We had
Desperados
at work for lunch one day. Not so healthy choice but it was good. Grilled chicken sandwich and baked seasoned fries.
Homemade strawberry smoothie.
Panera strawberry smoothie I got for free.
Panera Bacon Turkey Bravo hold the bacon and gouda.
Another strawberry smoothie for the pool.
Vanilla yogurt, granola and strawberries.
Mrs. Paul's Parchment Bake tilapia.
McAlister's half sweet half unsweet tea! Love the cups!
Zoe's Kitchen chicken wraps and potato salad.
CRAWFISH!
Mushroom Tea
Caesar salad from Mellow Mushroom
Half Gourmet White Half Mellowterannean Pizza
My all-time favorite
grilled cheese
!
Santa Fe Grill's Chicken Fajita Salad
Make smoothies ahead of time and store them in a mason jar in the freezer! Great for in the mornings when you are in a hurry!
Also, the experiment I did with the mason jar and lettuce totally worked! The lettuce stayed fresher longer in the jar than in the plastic zip-lock bag.
Green Giant Steamers – broccoli cheddar rice
Chipotle Vegetarian Bowl
-------------------------------------------------------------------------------
Let's chat!
What have you been chowing down on?