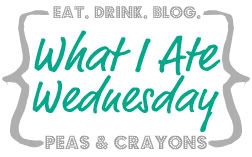 This week I have had some delicious eats and drinks!
- White Cran-Strawberry and diet Ginger Ale is my drink obsession as of late.
- Strawberries and fat free cool whip
- Hashbrowns loaded with tomatoes, onions, peppers and a little cheese
-
Blushing Mimosas
- Whole Wheat Pasta with Vodka sauce, green beans and cheddar garlic biscuits
-
Chicken and Vegetable Casserole
-
The Waysider
– short stack, turkey bacon and 1/4 order hashbrowns
We had lunch from
Cypress Inn
at the office one day last week and for the past two days this week. I admit I am spoiled. I ordered the Lemon Butter Tilapia Filet grilled with a baked potato and fruit cup. I also had one of their amazing rolls. Everything tasted great and the tilapia was cooked perfectly. It came with lemon beurre blanc to dip the fish in. I was afraid it was going to have too much of a lemon taste to it but it did not. I really liked it.
Question:
Is there a restaurant you could eat at multiple times a week and not get tired of it?