I have been enjoying my free time by the pool. If only I had more free time.
Did you know you can regrow green onions in a cup of water?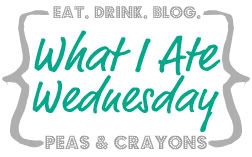 Sushi for lunch.
I try to take my lunch more than I eat out. I took leftover green beans and chicken casserole one day with grapes.
Another day I took leftover squash casserole and potato salad. I added two hard boiled eggs and grapes.
Lucky Charms make for a great dessert.
Jason's Deli for lunch one day. I love their croissants and fruit cups.
Chipotle veggie bowl! One of my favorites!
Lots and lots of coffee was had. Hot and iced!
Do you eat out for lunch or pack your lunch?